Ellenton Urgent Care Q&A
If you are suffering from minor injuries, and need to see a doctor urgently then visit PrimeHealth Urgent Care for treatment you can trust. We have convenient location near Ellenton, FL. Our location

directions

are here. For more information, please call us or schedule an appointment online.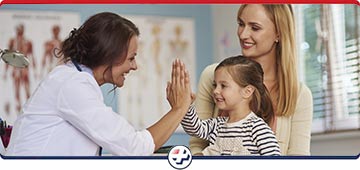 Table of Contents:
What does urgent care mean?
Why should you go to urgent care instead of the ER?
What can Urgent Care clinics treat?
Is urgent care less expensive than the ER?
Urgent care clinics are fundamental to the function and stability of the healthcare system, handling non-life-threatening medical concerns like flu, colds, cuts, and burns. All too often, people go to the hospital for a minor ailment, mostly because they do not know about the other, more appropriate options. Fortunately, as more people learn about urgent care clinics, they are able to receive better care.
What does urgent care mean?

Urgent care clinics are equipped to handle injuries, illnesses, and ailments that require immediate attention but are not threatening to one's life or limb. A cut on the arm, for example, should not wait until the next day, but should not necessarily be treated at an emergency room. Urgent care clinics provide care that bridges the gap between primary care provided by physicians and emergency care available at hospital ERs. Urgent care can provide medical services including:

• Minor illness
• Infections
• Allergies
• Stomach virus
• Rashes
• Minor surgery
• Sports physicals
• X-ray
• Minor medical emergency

Why should you go to urgent care instead of the ER?


It is recommended to visit an urgent care clinic instead of the emergency room to treat minor injuries or illnesses such as flu symptoms, scrapes, and burns. If a person is ever uncertain about the severity of their condition, or if they believe it might be life-threatening, then they should head to the ER for treatment as a safety precaution. On the contrary, urgent care can save a lot of time and energy and will almost always be the more convenient option for treating a minor ailment or injury.

Urgent care is oftentimes the better option and provides the following benefits over emergency care:

Shorter Wait Times — Patients who visit the ER with a minor injury or illness will almost certainly become the lowest priority for ER doctors. Naturally, the hospital staff will prioritize patients suffering from serious and life-threatening injuries and illnesses, which means patients with less pressing concerns will have to wait until the other, more prioritized patients have been treated first.
More Affordable Care — Visiting the ER for flu-like symptoms will not only result in longer waiting times, but it can also end up with exorbitant costs for medical care, even if it is for something as simple as a saline IV drip or fluids.

What can Urgent Care clinics treat?


Urgent care clinics are designed to treat the majority of minor health concerns, like symptoms of illness (cough, fever, nausea) or mild injuries like sprains, strains, and cuts. Every urgent care clinic is different and the services offered will vary from one location to the next. At PrimeHealth Urgent Care, we offer the following urgent care services:

• Drug Testing
• Flu Testing/Flu Vaccine
• Minor Burn Treatment
• Std Testing and Treatment
• Sprains, Strains, and Fractures
• School & Sports Physicals
• Urgent Care
• Vaccines
• Work Injuries
• X-Ray
• Abscesses
• Sports Injuries
• Bug and Animal Bites
• EKG
• BV Testing and Treatment
• Foreign Body Removal (Ear, Eye, Nose)
• Laceration Repair
• Pelvic Exams
• Strep Testing
• Splinting
• TB Testing
• Tetanus Shot
• Wound Care

Diagnose And Treat:

• Asthma
• Allergic Reactions
• Bronchitis/Cough
• Bladder Infections
• Chest Pain
• Colds
• Abdominal Pain
• Ear Infections
• Flu
• Gout
• Headaches & Migraine
• Pink Eye
• Rashes
• Shingles
• Sinus Infections
• UTI

Is urgent care less expensive than the ER?


Yes, in the vast majority of cases, urgent care is less expensive than the ER when treating the same condition. There are several factors that contribute to the cost of a visit to each of these clinics, including the hours of operation, the expertise of the staff, the number of staff, the services provided, and the location of the clinic.

At PrimeHealth Urgent Care, we are dedicated to providing you with all of your urgent care needs. Call us today to book an appointment at our urgent care, or simply walk into our clinic. We serve patients from Bradenton FL, Parrish FL, Sarasota FL, Ellenton FL, Palmetto FL, Lakewood Ranch FL, Sun City FL, Oneco FL, and West Samoset FL. We look forward to serving you!
Additional Services You May Need